Not only did the lovely Holly tag us, but Thor is letting me do this blog myself, kind of as a welcome to the pack! Isn't that sweet of him?

So, Holly tagged us to reveal seven weird facts about ourselves. I'm gonna share this one with Thor, if no one minds!

1. I am fanatical about giving kisses! Nothing, and no one, gets away from The Tongue. My new mama has tried, and it has not worked.

2. I like my green bean-and-kibble diet, which is also thanks to Holly and her mama!

3. I talk all day long, whether anyone is listening or not, it doesn't matter to me!

4. When I want to come inside from the run, I woo at each window in order, until mama or dad opens the door.

5. I like to nip at my new sister Smoky, just because it annoys her and she won't nip back.

6. I can break through any barrier a human puts up against kisses, and contort myself into strange positions, just like a cat, in order to do it!

7. I like waking up my new bi-ped sister by lying in front of the bedroom door and wooing at her until she wakes up.

Now it's Thor's turn! But I'm going to paw them, because this blog is mine, and I don't know when he'll let me have one again!

1. He doesn't like to sleep on the bed unless mama is the only one in it.

2. He won't lower himself to eating ramen noodles, although the rest of us will! He knows that just because it smells like chicken, it doesn't mean it is chicken!

3. He likes waking mama up by collapsing on her really early in the morning.

4. He doesn't like the cold.

5. He doesn't like to give kisses all that often. How weird is that??

6. When he barks, he sounds like a yappitizer instead of a Sibe!

7. He only woos when he is roughhousing with mama, and no one else.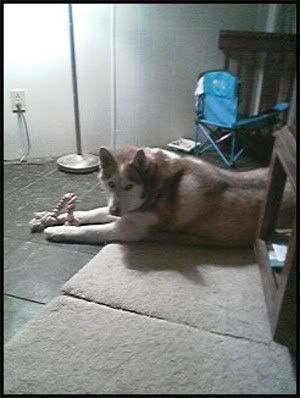 So, there's my first blog! I tag Meeshka, Steve and Kat, Thunder and Stormy, and Shelby and Maddox!
Woos until next time,
Lita