Dad gave Mama a scanner that had been packed away, and she's making a digital photo album, just in case something ever happens to the photo albums. She started scanning all the photos yesterday, and she found a bunch of pictures of dogs and other pets she had before we came along, so I decided to give a nod to them by putting some of them up here. I'll start with the smallest first. That would be Brandy, Shai Alai, Alysheba, Blanca, and Azhrei, the ferret crew. I don't know why Mama would have ferrets, since they're stinky, but she did! I haven't found all of their pictures yet, but here's Brandy:





She's climbing up Mama's leg! The one behind her is Alysheba, but the next picture gets her a little better: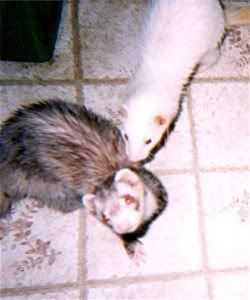 That's Alysheba, the white one, and Shai Alai. Mama says ferrets are actually lots of fun as pets. I think they look like good snacks, but that's just my opinion.

Now we go on to the more important ones: the dogs! First, this is Lir'reia and the pups she surprised Mama with. Mama got her name out of a book by a lady named Melanie Rawn about princes, princesses, and dragons. There was a dragon named Lir'reia in the book, who belonged to a blind princess, and the name means "The princess' eyes", but Mama just thought it was pretty. So, we have Lir'reia, with Smoky I tucked under her chin, then Bandit I with Hershey's Kisses on his back, Ewok looking at the camera, and behind her is Nocona, which is Comanche for Wanderer. He got his name by managing to get out of the puppy bed the day after he was born and wandering away to another area of the bedroom, making Mama tear apart the room until she found him sleeping under the bed!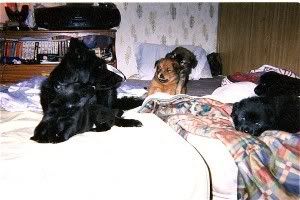 Now, here's a picture of Bandit I, all grown up, with Mama! He looks like a Golden Retriever, but he was also half Chow Chow, and Mama was the only person he ever liked!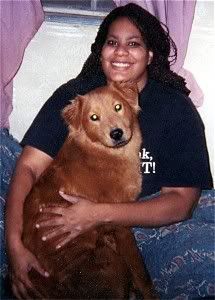 And now, for the most important dogs of all: the Sibes! And no, I am not biased in their favor! First, this is Nhavari with Lir'reia, and Hershey hiding behind him. Look how big he is! He was four months old, and Hershey was two months old!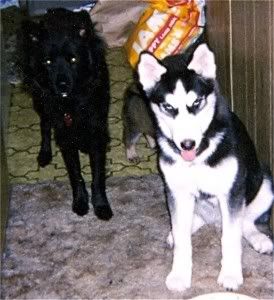 Now, here's his sister Nikita: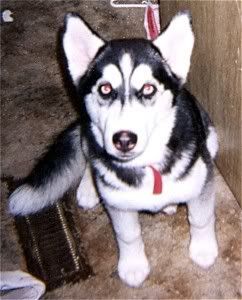 Aren't they beautiful? They paved the way for me and Lita, so I had to give them a nod. And here's a decent picture of Mama:




And finally, a picture of Mama's mama with our bi-ped sister. This one was taken on Christmas Eve 2005, so it was Avi's first Christmas, and her Nana's last one before she crossed the Bridge. Mama said I could use it because Nana loved dogs, and would have loved us a lot! So, here it is: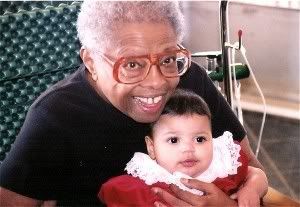 Mama says Nana would have been proud to be mentioned on our blog. I think we would have loved her lots, too!

So, there you have it. Mama is a general animal nut, but now, since she has us, she won't have any of the smaller animals anymore. She says she's afraid we might eat them. Hmmm...have to think about that. Ferrets might taste good, but I don't know if I want to eat something stinky!

Woos,
Thor