It's raining today, so Dad had Mama look up the weather report for the day before he went to work, and guess what? We're supposed to get SNOW tonight! Yes, you heard right, southern Arizona is due for some snow! Okay, it's not much, most likely less than an inch, but it's still snow, and Mama has promised to let us play in it if it comes, especially since it will be gone by tomorrow. She says it snowed about a half inch last winter, just enough for Dad to make a few snowballs to throw at the house, and he brought snow in while Mama was cooking and put it down her shirt! Ha-roooooo, I wish I had seen that! That must have been hilarious! I bet Mama didn't like it much, though!

She has already got the video camera out and ready for if the snow comes, so she can make movies of us in it. I wonder if Dad will freeze another snowball this year? I wasn't here for the last one. I wonder if Arizona snow tastes different from Pennsylvania snow or New York snow? Or Nebraska snow? Holly and Khyra could tell me, I bet!

Well, mama asked me to put up this picture of Bandit and our biped sister. She says I've been hogging the blog. I don't see how I'm hogging it, since it's MY blog! But I'll humor her and post it anyway.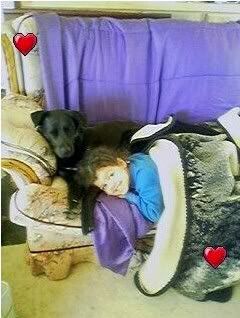 There. It's up. Okay, so it's a cute picture. So what? I'm not in it, so it isn't as cute as it could be, but it's okay. I guess. She wouldn't let me put up the video of us playing out in the yard, because when she made it, we had been out there for a few minutes, and she didn't rake up the inevitable results before making the video. That's not our fault, and I think she should let me put up the videos anyway, regardless of her embarrassment. Maybe it'll teach her to rake first, tape last! Ha-roooooo!

See ya's later!
Thor