Today is Easter Sunday, the day the Easter Beagle arrives, bringing candy and treats to all children, whether they have fur or not! We've been looking for him, but he hasn't gotten here yet. Mama says that houses that only have children only get an Easter
bunny,
but houses where there are furkids and furless biped kids get the Easter
beagle,
which I think is way better! Here's what he looks like: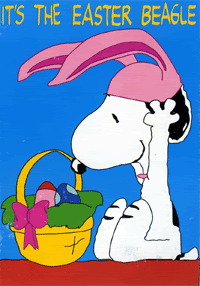 So if you see him, be sure to let us know where he is, so we can figure out how soon he'll be here at our house!
While we're waiting for him, Mama subjected me to a grooming session! I was not happy, but I submitted with grace...
this
time! It's getting hot out in Arizona at this time of year, so getting rid of all that loose fur was kind of a good thing. Mama's going to get Smoky next, and maybe Bandit too. She had to have Dad put LeeLee in the crate while she groomed me, because LeeLee was
eating
the pile of fur! YUCK!
Since there was discussion of coat blowing among the Sibe-slaves on SMS, as well as some pictures, Mama decided to join the fray. So here are some pictures:
As you can see here, I am very unhappy with the situation.


And here are some pictures of all the fur Mama got from me before her arms got tired. She gave up before I was fully groomed, with a threat to finish the process later!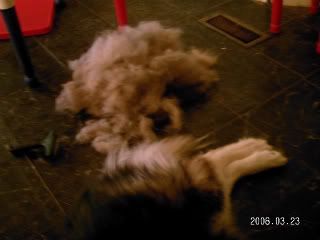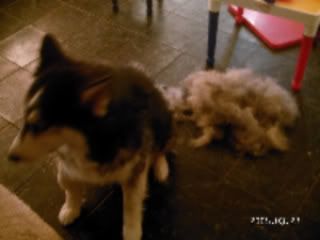 The Easter Beagle better bring me a whole roll of livergreat just for me because I was so good for this! Even the little biped helped Mama! She got the pin brush and brushed me for awhile. Mama had to show her how, but she really wanted to help, so she's learning. The things a Sibe has to put up with sometimes!
Woos,
Thor